JiSun Hong
Product Designer
Academicly
Research, Design & Testing the enrollment management system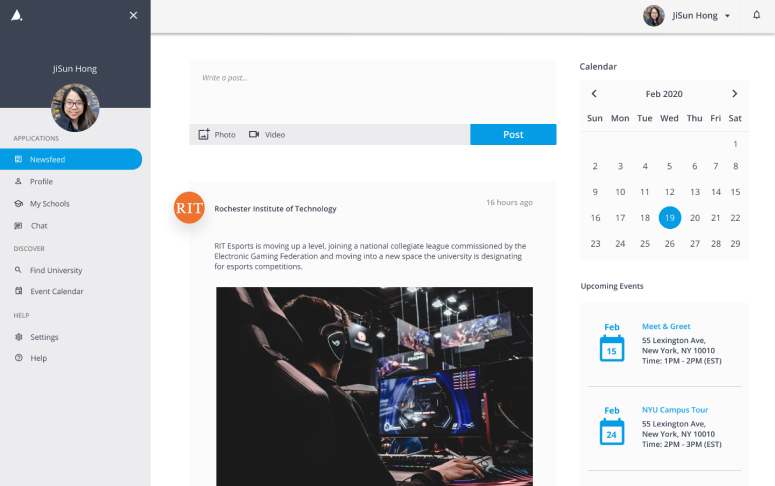 OVERVIEW
Project Brief
Academicly is an enrollment management system that brings students, high schools, and colleges together in one ecosystem to manage the college application process through real-time document sharing, communication, and expanding opportunity and access to education.
The Goal
The goal is to improve the overall experience of the web application in order to acquire many more students to the platform in the near future.
My Role
Responsible for a variety of UX tasks, including; conducting user research, restructuring the user flow, usability testing, and creating the final prototype.
Team
Worked in a cross-functional team - CEO, Product Engineer, and Creative Director. As the main product designer, I was involved in all phases of the project, from mapping out the problem to delivering final designs.
Problem
Many high school students struggle to look for the right colleges that meet all their requirements. It is common to get lost in the process. Especially for first-generation immigrants that move here at a young age. Most parents have clueless about how to apply for higher education.
How might we create a seamless experience for students to search and apply to their desired colleges?
Research Method
User Survey
Who: 133 High school students using google forms
Goal: To understand the student's overall challenge in searching for colleges & universities.
1-on-1 Interviews
Who: 2 High school students using through google hangouts call
Goal: To obtain a thorough understanding of the pain points, motivations, and goals.
Information Architecture
Shown below is the IA of how the experience will take place for students, (old and new) once they login to Academicly.
Wireframes
Using the user flow and looking through the current product, I created quick wireframes using Figma to get a sense of where the main elements would be placed. Once the wireframe was complete, I went through the designs with the CEO and the Creative Director to make sure everyone was on the same page. After some feedback, I iterated the designs to proceeded forward with implementing the UI.
User Testing
I was able to talk to five high school students to usability test the product for validation before shipping out the product to the developers. User testing was done remotely, through google hangouts. All the users had very different insights about the product and I was grateful to gain feedback for the designs I created.
Key Findings
Lack of consistency & discoverability

Confusing elements in the application

Grouping of information needs improvement

A better way to communicate certain functionalities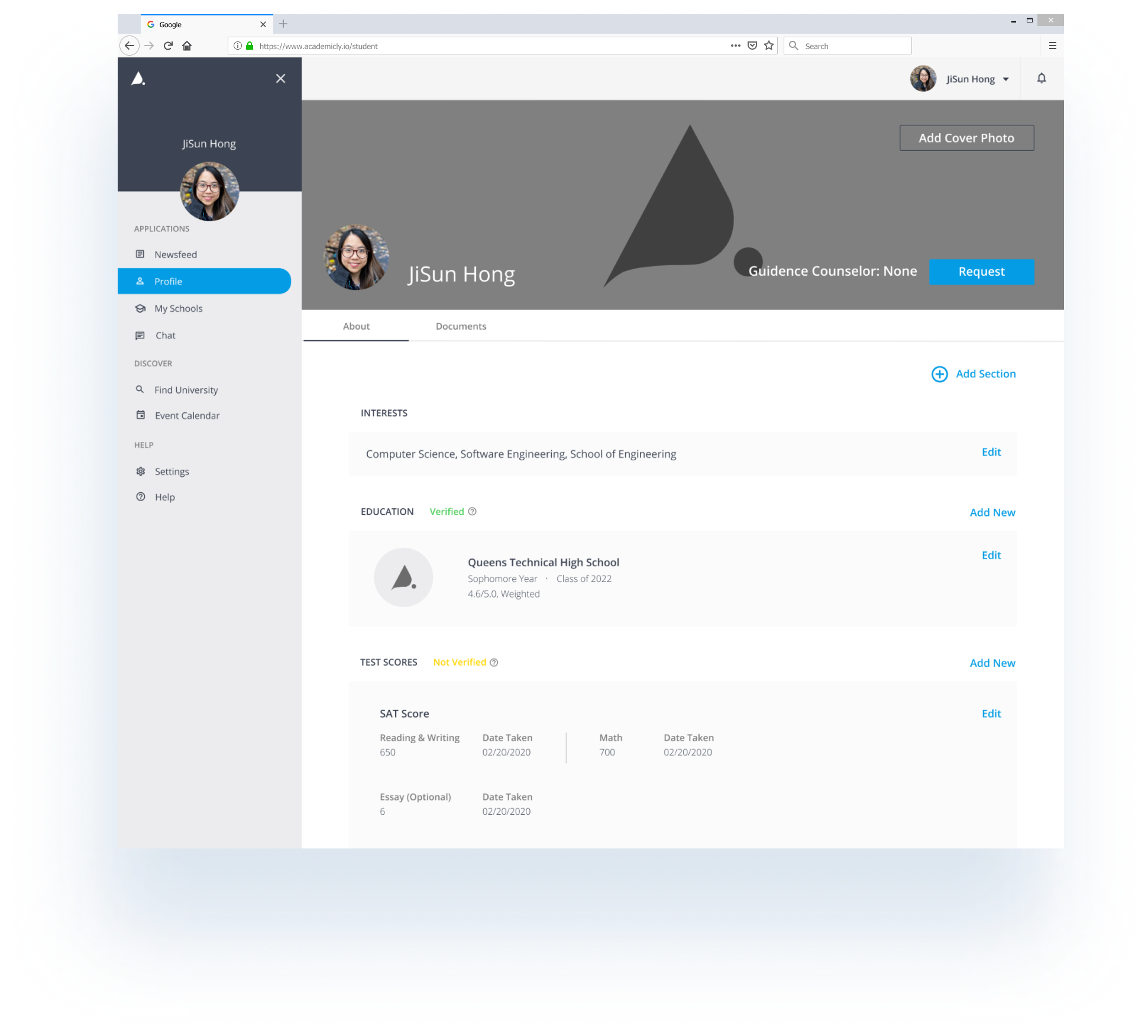 Student Profile
Students can create a personalized profile where they can highlight their achievements.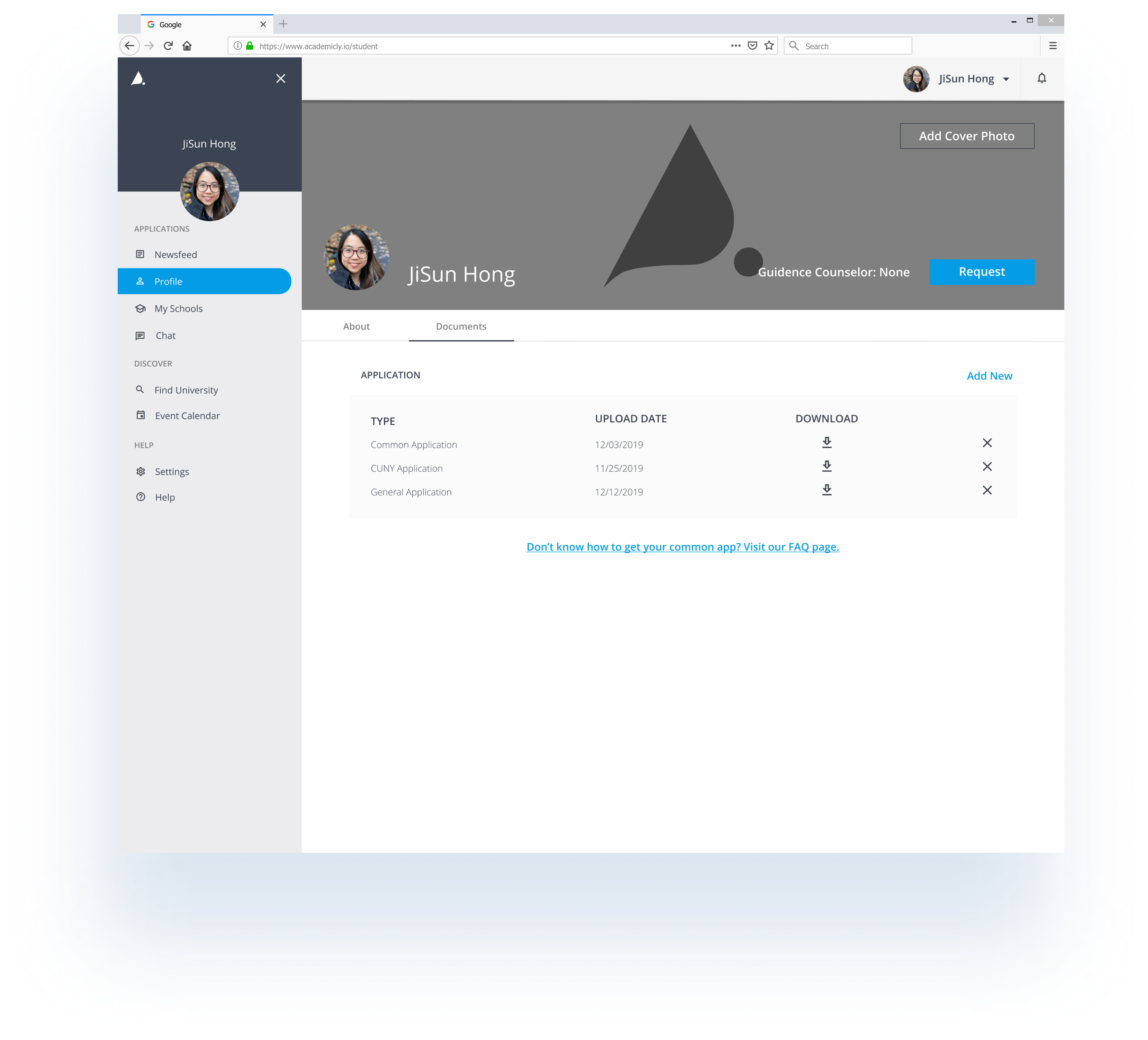 Documents all-in-one Place
Students are able to upload documents required for college applications.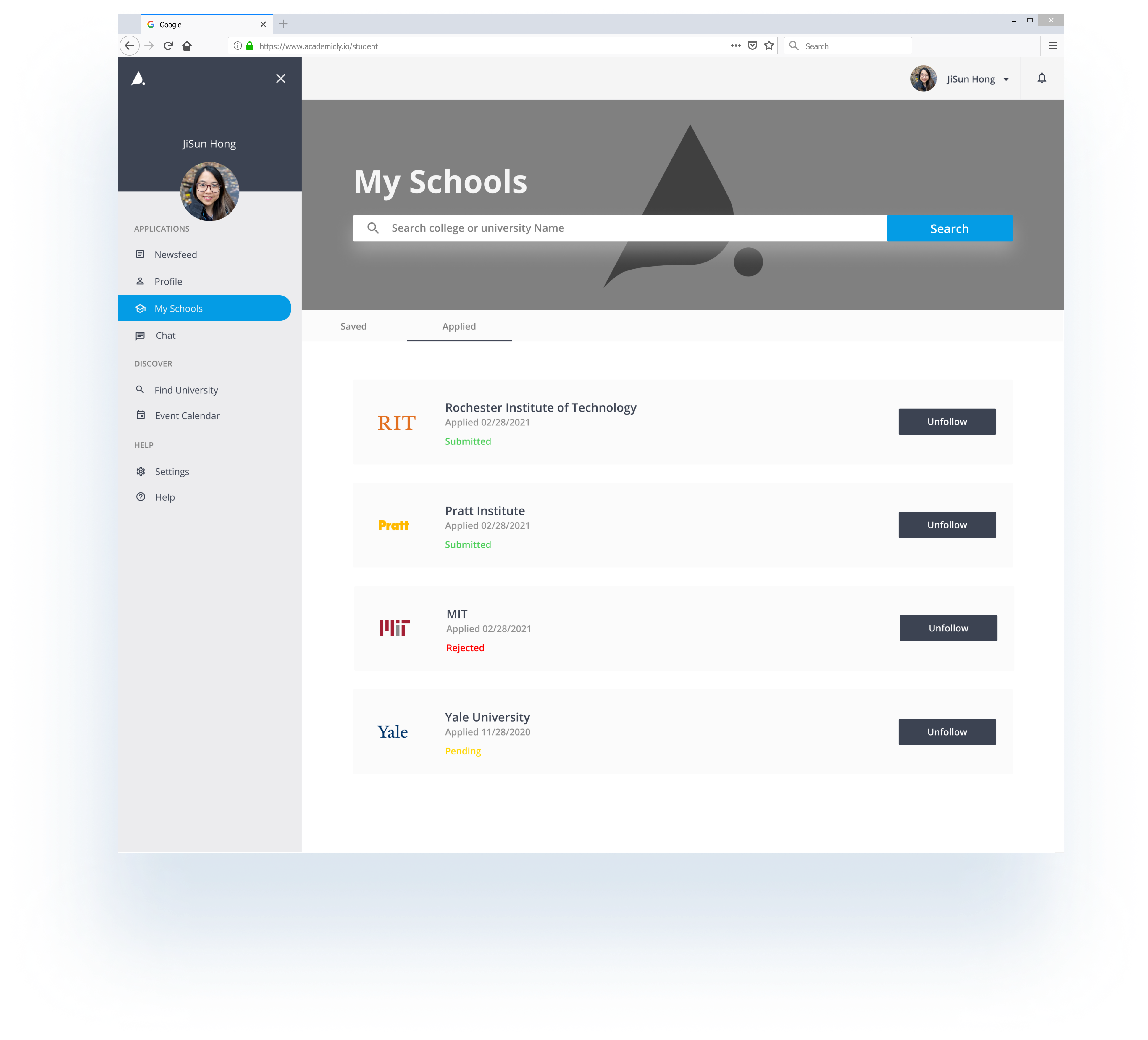 Manage Colleges Applied
Students are able to look at which colleges they applied to. They are also able to view the status of their application.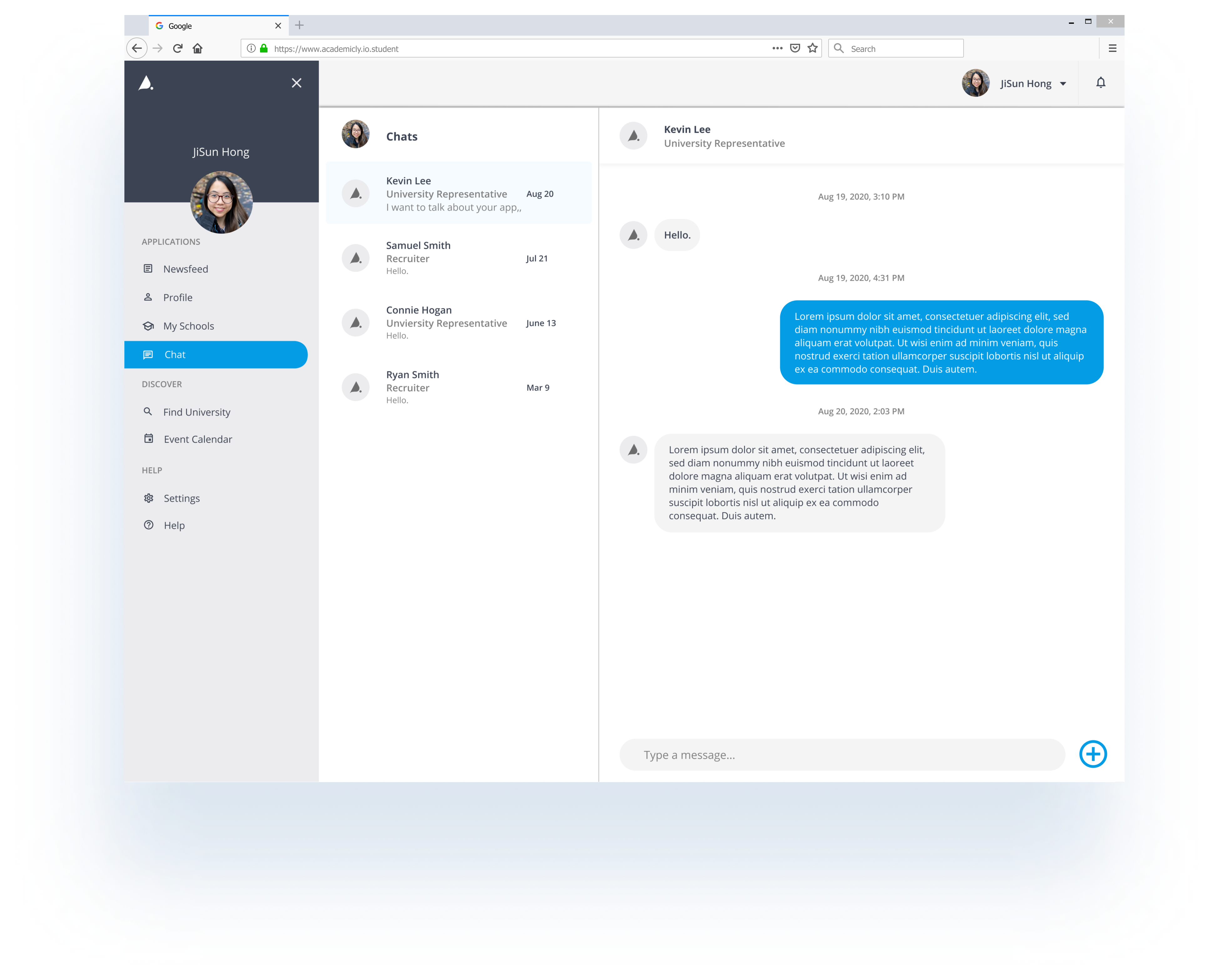 Chat with recruiters
Students are able to chat with college representatives and ask any questions they may have about the college.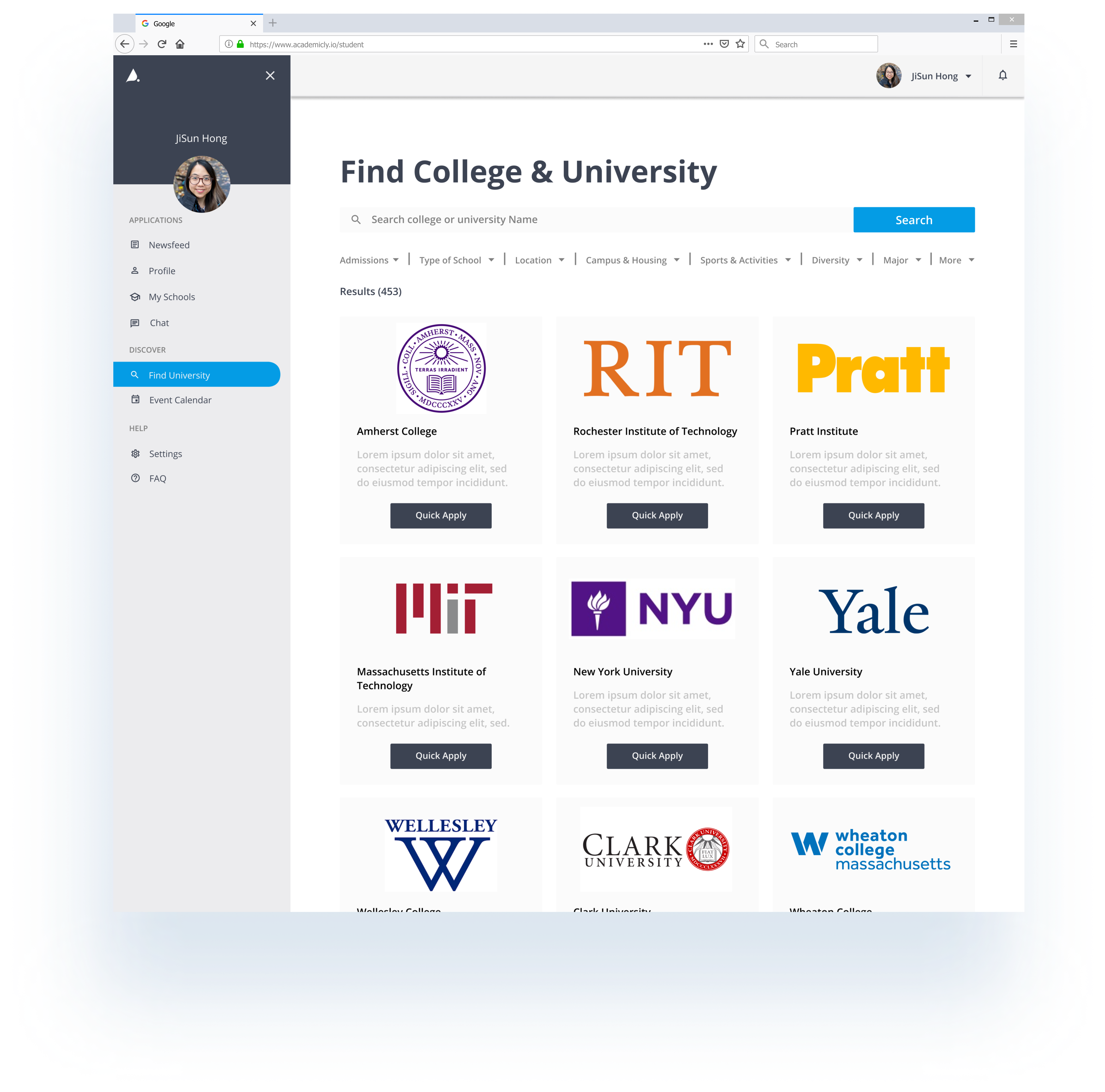 College Search
Students are able to search for colleges by either typing out the name or filtering the search.
Implementation
After finalizing the design, I used Figma and Invision to deliver the designs to the engineering team. When they complete the product, I am planning to conduct another round of usability testing to provide suggestions and fix any minor usability issues that appear.
Reflection
The next steps involve more QA work, user testing, and design iterations once the complete product is pushed live.

I feel like Academicly is such an essential tool especially for students who feel lost, and confused about where they would have to go after high school. I remember myself struggling to apply to college overseas because my parents were unaware of all the important documents that needed to be prepared.

I've learned how important user testing is and feedback is essential to any product that is created by human beings. We can make mistakes, we can miss a minor issue that could be a major issue to someone else. Note to self: Continue testing, getting feedback, and iterate the designs accordingly.