JiSun Hong
Product Designer
Buddy Book
A Pet Record Tracking App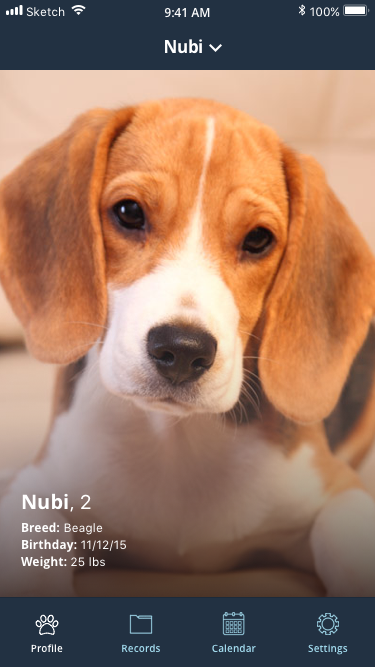 Overview
There are over 470 million dog owners in the world. More than half of all Americans have a dog or a cat in their home. People are busy with their lives: They need to go to work, pick up kids, do chores, take care of their pet, to name a few. New or old pet owners have documents they need to keep about their pets to make sure they are up to date with vaccinations, if they have any medical needs or if there any history of an accident. These records are highly important to keep especially when you move to a new town or a new country with your pet.
How can we help pet owners keep track of Important documents?
Surveys & Interviews
We decided to send out some questionnaires and do in-person interviews to gain a deeper understanding of our users. We wanted to learn about what sort of information was worth tracking, any existing information tracking system pet owners use, and if they wanted to keep specific information about their pets.
6 questionnaires & 2 interviews
Key Findings
Most users keep paper copies of medical information.

Dates of vaccination are kept track by the vet.

Users do not use tools to keep track of records.

Users are afraid of losing their records that are on paper.
User Journey
We decided to map out the users' journey. The map below represents the journey of a typical dog parent. By creating a journey map, we could understand the difficulties of having a dog in the family because there is so much information that needs to be tracked and accessed. We could thoroughly understand the type of information that needs to access or keep a record of their dog.
Personas
Based on the survey and interviews, we set up two personas. We made sure to keep the user persona in mind while building our product.
Competitive Analysis
We realized there were other apps for pets in the current market. We decided to analyze some of the top competitors to find out why users were not utilizing a tool that already exists.
Key Findings
Most apps have the ability to save medical records

Only one app has a calendar feature

Apps are not user friendly and they look outdated

Sine apps have sharing ability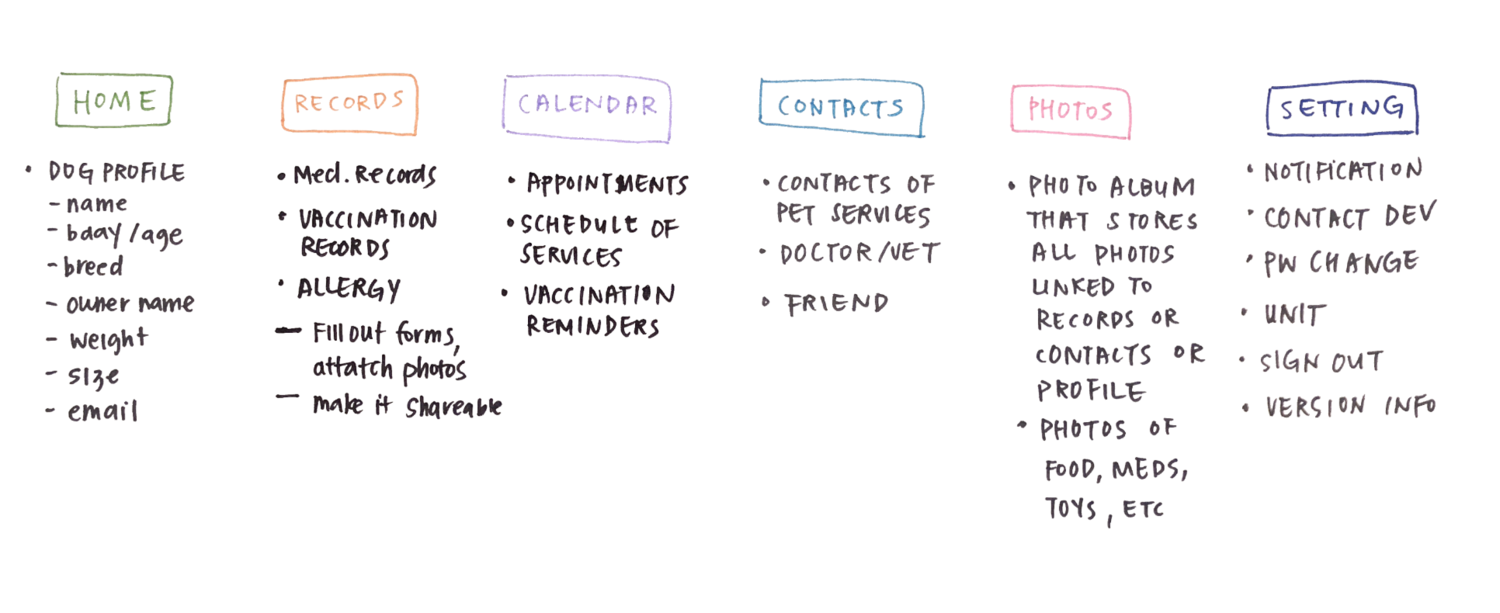 Initial Ideation
Based on the results from user research, analyzing the journey map, and competitive analysis, we came up with features that could be included in our app.

Idea Critique
After our initial ideation was complete, our progress was critiqued by 2 product managers and 2 technical leads. We presented our idea to receive feedback.
After further research and considering the feedback we received, we realized some contents were not necessary. The critiques suggested we focus on one main feature because, given the time frame, we would not be able to complete everything. We came to a consensus to remove contacts and photos because the users would be able to use their built-in phone features. We decided to keep records and calendar features as our focus.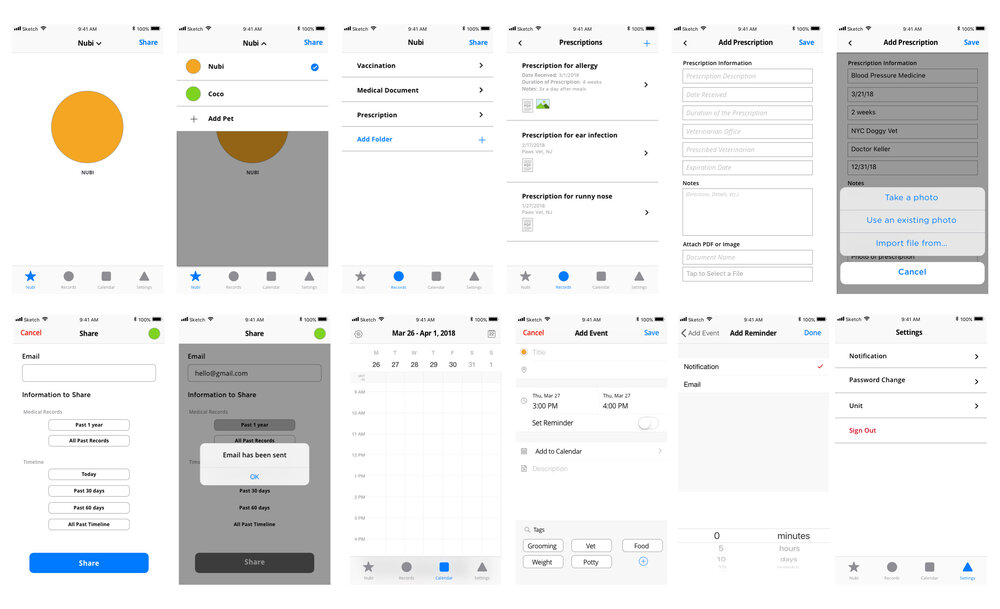 Wireframe
We created low fidelity wireframe using Sketch. This helped us visualize the app we were trying to build and iterate through the different options easily.
We used these wireframes to conduct user testing.
User Testing
We were able to recruit four participants who fit the persona through a survey to user test our app. We created specific tasks to find out any usability problems with our app. We utilized the observation and think out loud method.
Tasks
1. Add an appointment to calendar + Add a reminder to the calendar
Your dog Nubi, has been booked for a follow up appointment with the vet. Add the appointment to the calendar for March 28th from 3 - 4 pm and set a reminder notification to go off 1 hour before the appointment.
2. Add medical record + take pics + write a note
The vet wrote out a prescription for your dog Nubi. Take a photo of the prescription and add it to the app for record keeping. The doctor told you that the prescribed medicine is to be taken orally 3 times per day, after each meal for 2 weeks. Add this note with the prescription in the app.

3. Change pet + Share medical record
Your other dog Coco is a new patient at the vet. Switch to her profile and email past 1 year medical records and past 30 days of Coco's timeline to the vet.
Results
We received so much valuable feedback through user testing. We created a spreadsheet listing all the insights and problems users faced during the user testing session. From the problems, we tried to come up with solutions that would cause less confusion while using the app.
High Fidelity Design
We iterated our design twice before settling with the now finished product. We applied edits reflecting the feedback we received from user testing sessions.
Play with the prototype here
Reflection
This project was a huge learning experience ever since I started learning about user experience design. I learned that having a lot of features does not make the product feasible. There is a certain amount of features that need to be incorporated for it to work, and then we will be able to add additional features in the future. Users opinions matter a lot even though the design decision is up to me to decide. I thoroughly enjoyed working on this project.